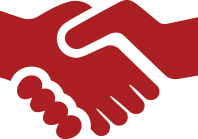 At PM Title, we are at your disposal.
Think of us as your 24 hour resource.
Our doors are always open, cell phones are always on and email is frequently checked (yes, even on weekends!). We always work diligently to ensure that your transaction is handled professionally and efficiently.  We believe in going "all-in" and doing whatever it takes (ethically and responsibly, of course) to get to the closing table.
We know that Trust is paramount in the Real Estate Industry.  Just as our Bulldog (Thor) mascot suggests, loyalty, integrity, honesty and character are virtues that we hold extremely high.  Our owners have 30+ years combined experience in Lending, Residential Title, Commercial Title and Real Estate Law.  We have the experience to facilitate any transaction.
We take great pride in protecting your confidential information.  We have gone to great lengths to implement policies and procedures to protect your information.  We perform continual background checks on our employees and have a state-of-the-art digital backup of all files.  Paper files are now a thing of the past.  Although the real estate industry is not completely eco-friendly, we do our best to limit PM Title's carbon footprint.  Even our pens are made from recycled water bottles.