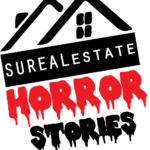 CALLING ALL REALTORS, BUYERS, SELLERS, ANYONE WHO HAS EVER OWNED A HOME! PM Title is starting a fun blog that will tell people's CRAZY stories about a real estate transaction they went through. It's called SUREALestate!
In commencement to our fun blog, we are having a contest for the month of October called SUREALestate HORROR STORIES! From October 3rd until October 17th you can tell us your story and be entered in our contest. We will post the Top 5 Stories! For the BEST STORY, we will donate $200 to the charity of their choice!
The stories can be funny, scary, spooky, ridiculous, unbelievable, surprising, or all of the above!